Construction, today, similarly to the Global economy comes to a HALT!
From Oil & Gas, to Buildings and Infrastructure, capital projects in all sectors within Engineering & Construction (E&C) are suffering major economic disruption.
With an emphasis on the regions we operate, mainly SE Europe and MENA, but with global applicability, we put together 9-Tips, beyond the obvious, that can mitigate the risk and reinforce business sustainability with the utilization of construction-expert business applications.
---
1. Increase your bidding opportunities and your presence
Times like these, Stay Calm and Accentuate Business Confidence.
The best way to do that is to market your company by being present to as many Bids are available. Bidding is power and is showcasing to the 'larger' players your efficiency and accuracy.
Along with your operational excellence in the local market conditions and specific types of works, these ingredients can generate Win-Win synergies, open new markets and increase your business opportunities.
A good Bidding software would help you accelerate your Bidding process, utilize your key staff remotely and assist you in estimating better and winning more projects.
---
2. Control Procurement and Purchasing. Materials handling
One of the most important business territories that Contractors lose money is Procurement and Purchasing.
The anarchy of who is requesting, for what and when, the timing of placing and executing orders, the limited options for quotations, the lack of objective evaluation along with transparency and speed of execution are only a small part of the problem.
A software that will consolidate similar materials from different BoQ codes, group subcontractors packages and generate/send electronic Requests For Quotations (e-RFQs) and align BoQ codes to certified Subcontractors and/or Suppliers, can save money and time.
Based on automatic evaluation suggestions of submitted quotations, the software will enforce transparency and will lay the foundations for Cost Control in resource consumption, on-site.
---
3. Restructure your financials
Banks will need comprehensive evidence and documented proofs in order to extend your credit lines, restructure your financials and get better terms.
Having a solid business plan can assist you in seeking new financial injections from equity investors and venture Capitals by creating a solid Business Plan.
A software that enhances your gross-profit margins, smartens your positions and justifies your cash flow with the use of Business Analytics will assist your Financials, Accounting, Investment and Treasure teams to get the 'Yes'.
---
4. Lower your Insurance Costs. Get better Financing terms
Leveraging on operational excellence and highlight your corporate managing processes with de-facto methodologies and best practices on Project – Construction – Quality and H&S Management can create sufficient grounds to lower your insurance costs and get better financing/leasing terms.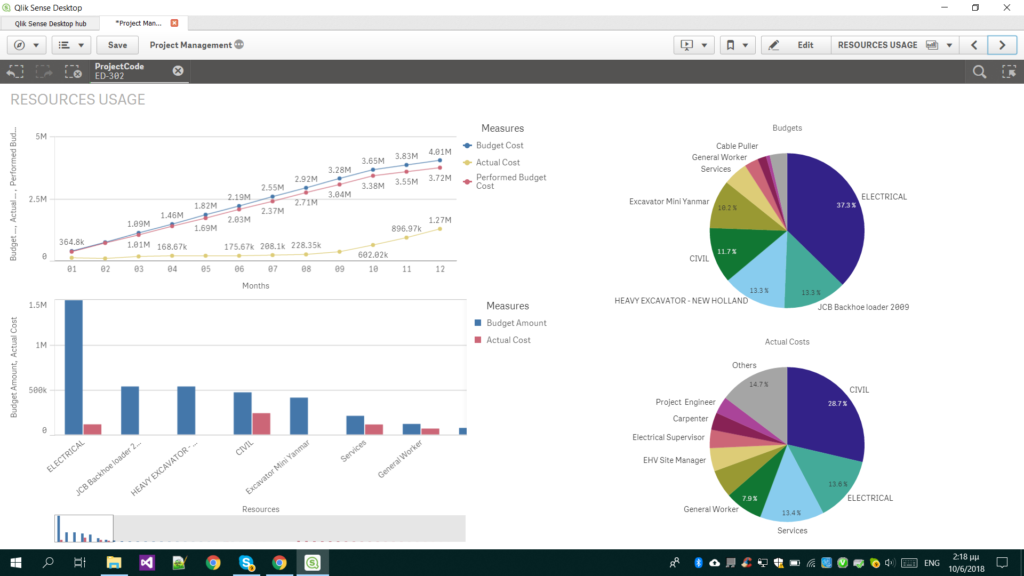 A software that proves with tangible and personalized reporting that you have Projects Performance under Control and you Manage, because you Measure, is invaluable not only for getting the required terms but also as true value to your Company.
---
5. (Re)Negotiate with Subcontractors and Suppliers
Negotiating and re-negotiating in a productive manner the deliverables and the terms and conditions with your subcontractors and suppliers can benefit your profit and cashflow without 'hurting' your partners. This is a very 'thin line' to walk and requires to provide alternatives and being flexible.
A software that will reveal opportunities in supplying and storing materials to your subcontractor or providing a subsidized financial credit line to your suppliers can save you money and assist them in doing their work whilst get paid when deductions and retentions apply and when certifications are approved.
A software with a dedicated Subcontractors management module will streamline certifications-invoices-deductions and retentions and facilitate electronic reconciliation and contract management
---
6. Sublet/Sell machinery that you don't utilize. Leaseback
Construction equipment, machinery spares, parts when on idle require maintenance and storing that generates a significant financial burden. There are always going to be opportunities for selling, renting and leasing back.
In periods that work is low and machinery will not be utilized, you have to think not as a 'Buyer' but as a 'Seller/Lender'. Large marketplaces are on web. Placing your assets, spares and parts that are available can generate selling or renting opportunities. Knowing your current assets capitalization and applying remedial retrofitting when possible to increase their value can prove invaluable for leaseback.
A software that has a construction-machinery management and maintenance business logic can provide all the necessary information required in terms of usability, preventive and corrective maintenance and align spares, parts adjusting current asset value.
---
7. Get rid of materials in stock
Similarly to machinery, materials also generate residual cost due to storing, packaging and warehousing. Redundant materials, some of them with expiration dates can generate selling opportunities before their disposal.
Knowing the excess in materials along with the scheduled (on not) utilization to a project along with integration to an international marketplace or auctioning platform can generate opportunities for selling creating income and reducing storing and logistics.
---
8. Get advantage of hiring high-caliber professionals, remotely
Until now, companies were using human resources within the geographies they operated, considering that their physical presence day-in and day-out was a standard requirement. Hiring experts for different disciplines were made via HR agents, locally.
The 'New Normal' requires a different mindset.
Software that can match specialties and roles and collect the HR requirements and will further publicize jobs in the company's website facilitating end-to-end the hiring process based on predetermined HR criteria.
The software will collect, store and organize all resumes from HR applicants and can generate a database that can be used in due time. Depending on the type of services, professionals can provide the required services, remotely, on-demand, and reduce the company's operational costs.
---
9. Get into Public-Private-Partnership (PPP) Projects
Getting into PPP can generate a new sustainable 'long-tail' income revenue stream and can transform your business in the long-run.
Nationalization will come in many forms. Governmental and semi- Governmental Authorities will materialize lucrative PPP tenders to attract private investments and unlock money funding and global trade.
Having the right qualitative and quantitative check and balances along with compliance and regulatory auditing within the framework of your IT operations will increase your business acumen and will give you the added value to become a PPP player.
---
For more information, please contact DANAOS Projects Software Solutions
Tamani Arts Offices – Office# 1923
Business Bay – Dubai, UAE
PO BOX 24051
Telephone: +971 4 8714149
Email: sales@danaos-projects.com