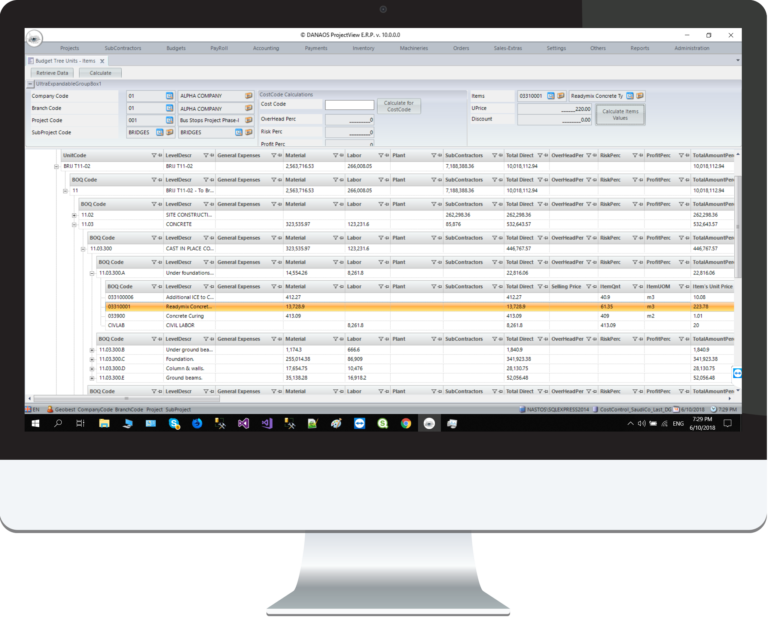 Auto-Import BoQs (Bid items) from any .xls or .ifc file. Connect dwgs and docs to BoQs' Codes. Extract QTO, keeping BoQ versioning. Compare measured vs LS. Simulate What-If and What-Will scenarios
Associate direct and indirect resources' parametric costs bottom-up from cost recipes to BoQs. Get Budget-At-Completion executing bulk purchasings. Use optimized/updated company recipes
Manage site-office interactions, MRFs and MRIs, dwgs, progress, suppliers, inventory, subcontractors, labor, payroll, machinery and RFIs. Size Risk, Profit/Overhead and get forecasts
Use Cost Codes previously linked with BoQs and WBS and get an ominipresent performance on projects, regardless of BoQ and WBS updates, whilst managing Claims. Control Actual vs Budgeted Cost
Improve Bid-Wins, Streamline Construction
Go beyond the usual project scheduling. Assess and Attenuate the Risk during pre-Construction. Secure and Increase the Profit during Construction. Improve productivity, transparency, and compliance. Estimate accurately, control your project costs and continually optimize your construction processes, formulas and recipes. Fully tailored to your exact specs, integrated with any third-party system and tightly coupled with Primavera and any BIM system, ProjectVIEW is an Enterprise Cost Engineering ERP solution –a game changer– an essential tool for multidiscipline, multinational and multifunctional construction groups with dispersed, global business operations.
Turbocharge your Digital Transformation
The Next Generation

Construction_OS

software

for

AGILE CONSTRUCTION
Assuring Capital Projects Quality & Performance Consistency
We innovate.
We adapt.
We overcome, together!
We put the crisis of COVID-19 into a new perspective. We ensure business continuity eliminating cost overruns and reinforcing transparency and compliance. We stay engaged with our Clients and put a path forward to the 'New Normal' by putting Customer, firmly, in the driving seat
Our Response Plan to Coronavirus
ETHOS and TRUST are our mandate! Get ProjectVIEW ERP today and enjoy a unique opportunity. Take no risks. Pay only for our services. Use your own data, Go-Live, and start paying for software licenses based on a predefined payment plan that fits your needs.

Bet on Resilience. Bet on ProjectVIEW ERP and flick of the switch. Get ready, today!



Don't blackout! We've got you covered. When physical distancing is required, we employ all possible means of communication to establish social engagement. No bots, No AI, Just People and Human Intelligence!

Workforce is Changing-For-Ever turning into Office2Online (O2O) Business. We maximize your investment's performance and productivity, providing continous collaboration, training, guidance and support
Adopt our latest resilient Cloud topology and start staging your systems into a fault tolerant environment, always ON, accessible from anywhere.

Our experts will design and support a fully integrated cloud infrastructure that will securely federate your data and mission-critical apps. Utilize 5G networks and provide office-type speeds at the home environment for your remote staff.

Transform to an Intelligent Digital Enterprise, today! Transform to a new Virtual Organizational Structure.
The Standard Construction Operating System for all Sectors
for Constructors, Projectized Organizations, Public Sector Projects Sponsors, EPC Companies and Engineering Consultancies
Community Infrastructure & Buildings
Rather than construction-agnostic CRM, WMS, HRMS and SCM systems, we offer Capturing, Bidding, Contracting and Commissioning in an integrated Engineering, Construction, and Operations (EC&O) platform starting from pre-construction to controlling resources and costs.
Motorways and Railways similarly to most infrastructure and civil works projects require lifecycle asset management and serviceability. Beyond the bid and construct phases, we facilitate Built-Operate-Transfer, providing asset's preventive and corrective maintenance.
Offshore – Oil & Gas – Refineries
From exploration to production we acknowledge the harsh environment of the onshore and offshore marine works, providing reliable data connectivity, synching operations and controlling the progress and the cost of labor, crew, assets, machineries and vessels.
Energy – Water – Data Centers
From estimation to construction and maintenance our system facilitates recording and association of costs per area, project, type and item providing analytics and reports on the Earned Value Financial Analysis and measuring the Return on Investment.
Shipbuilding & Marine Engineering
Enriched with DANAOS Maritime Suite apps and attaining a Construction mindset, we provide cost control and compliance to each project specifications facilitating marine services project management end-to-end from Enquiry-Inspection-Quotation to Execution.
Mechanical-Electrical-Plumbing
Based on parameters and the specifics of each MEP element we provide to the sales department a unique configurator of the required materials assembly, creating commercial punctual offers and monitoring the cost and progress during Contract execution.
A modular hybrid solution, hosted on-Cloud or on-Premise
Based on a typical construction's company organizational structure, select a 'Pie Slice' and see module-per-module how each business unit can align works onsite and office by utilizing ProjectVIEW Office Modules and Site Apps, achieving cross-functional collaboration
Use our Addons to extract QTO, categorize items, fast procure. Integrate with any BIM file, getting a 5D view of your Projects
ProjectVIEW ERP Suite [10+1] Modules for
Unified Project Execution
As a Modifiable-of-the-Shelf Software, ProjectVIEW ERP is a suite of purpose-built Office Modules + Site Apps that are innately connected to ensure cetralized data enlightenment in a Single Source of Truth
ProjectVIEW ERP Core is the administation module of ProjectVIEW ERP Suite allowing you to initialize, setup and configure the core system parameters and the system settings.
Operated mainly by the Administrator (Admin User), ProjectVIEW ERP Core Module allows roles, users and groups creation providing secure and regulated access control to menu items, forms, workflows, reports and business analytics dashboards, creating a unique Project Performance Cockpit based on your profile and role.
ProjectVIEW ERP Core Module supports multiple entities: Companies, Regions, Units, Currencies, Departments, Languages etc. and facilitates collaboration among stakeholders for all projects' types (eg. PPP, LS, BOT) allowing secure interactions. It also facilitates the easy creation of workflow rules mapping each company's interdepartmanental policies.
As an internal system mechanism ProjectVIEW ERP Core Module has an auto-check for Updates and Upgrades allowing direct download from DANAOS hosting server, on-demand. The system also records timestamps when users key-in data, tracking additions and changes.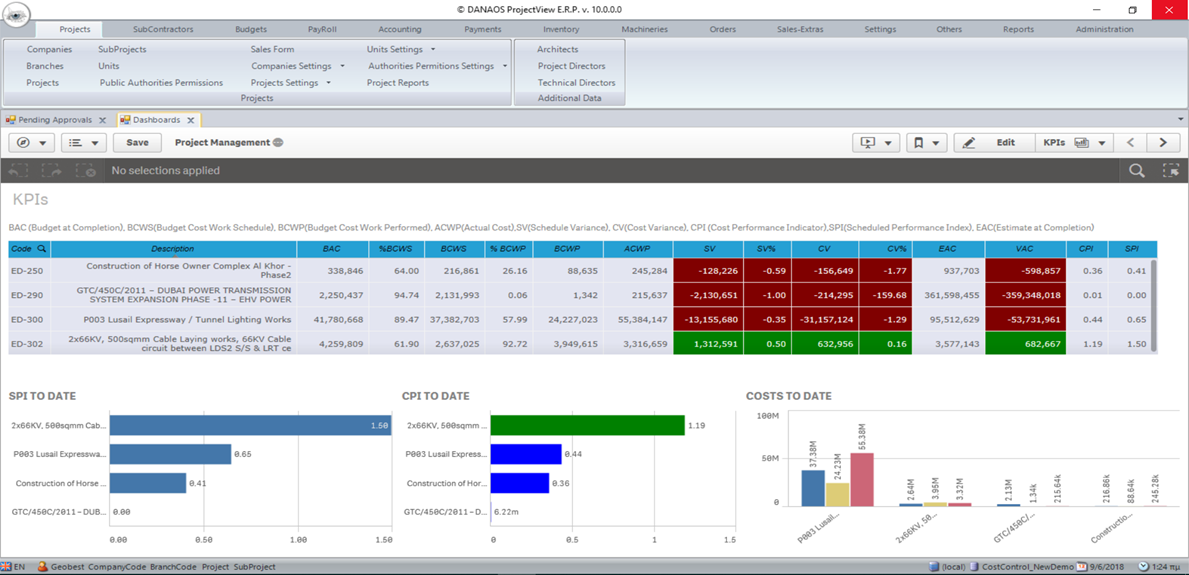 Similarly, to general CRMs, ProjectVIEW ERP Estimation & Tendering Module is a construction-specific CRM operated by planners, quantity surveyors, estimators and tendering professionals facilitating the accelerated submission of well-estimated and planned Proposals whilst increasing dramatically the possibilities of bid-wins.
The ProjectVIEW ERP Estimation & Tendering Module encompasses an .xls import wizard that allows conversion and data cleansing of the BOQ Code lines and generates a well-structure BoQ tree, ready for estimation (resources allocation). Each BoQ line can be populated with resources either one-by-one or bulk, via recipes, accelerating cost completion and facilitating estimation.
The combination of ProjectVIEW ERP Estimation & Tendering and Procurement Modules constitute a powerful offering as a construction-specific CRM.
ProjectVIEW ERP Budgeting & Cost Control Module is the flagship module of the ProjectVIEW ERP Suite as it provides realtime information on Actual vs Budgeted Project Cost and enhances collaborations by 'bridging' the operations in the office and sites. ProjectVIEW ERP Budgeting & Cost Control Module is orchestrating all different processes and assures data integrity between stakeholders. Claims and variations (Change Orders) are facilitated via a BoQ versioning system and a designs' management approvals' workflow.
Based on real project's conditions, ProjectVIEW ERP Budgeting & Cost Control Module is connecting -trilaterally- BoQ Code Items, Cost Codes and WBS Activities, providing meaningful KPIs for Risk Assessment and Forecasting to Cost Controllers and Construction Managers : BCWS – BCWP – ACWP – VARIANCE% – SPI – CV – CV% – CPI – BAC – EAC – VAC – CSI – TCCPI.
ProjectVIEW ERP Budgeting & Cost Control Module is seamlessly connected with Oracle Primavera and any BIM system (via .ifc) facilitating 5D construction.
ProjectVIEW ERP Subcontractors Management Module is a distinct module of ProjectVIEW ERP Suite for managing Subcontractors (or any Contractor) end-to-end, taking into consideration retentions and/or reductions based on actual progress, utilizing Alternative Analysis, comparing organic resources against non-organic (make or buy).
Aligned with their contractual obligations, Procurement Module of ProjectVIEW ERP Suite facilitates Subcontractors progress and assessment so that Construction Managers can control all Subcos' resources as their own.
With ProjectVIEW ERP Subcontractors Management Module, a Construction Manager can align payment certifications with inbound and outbound costs for materials, machinery and labor.
Subcontractors are utilizing ProjectVIEW ERP web app (site application) to electronically submit their data such as: daily logs, labor, materials and progress of works. Gathered information is send back to the office as Actual Cost.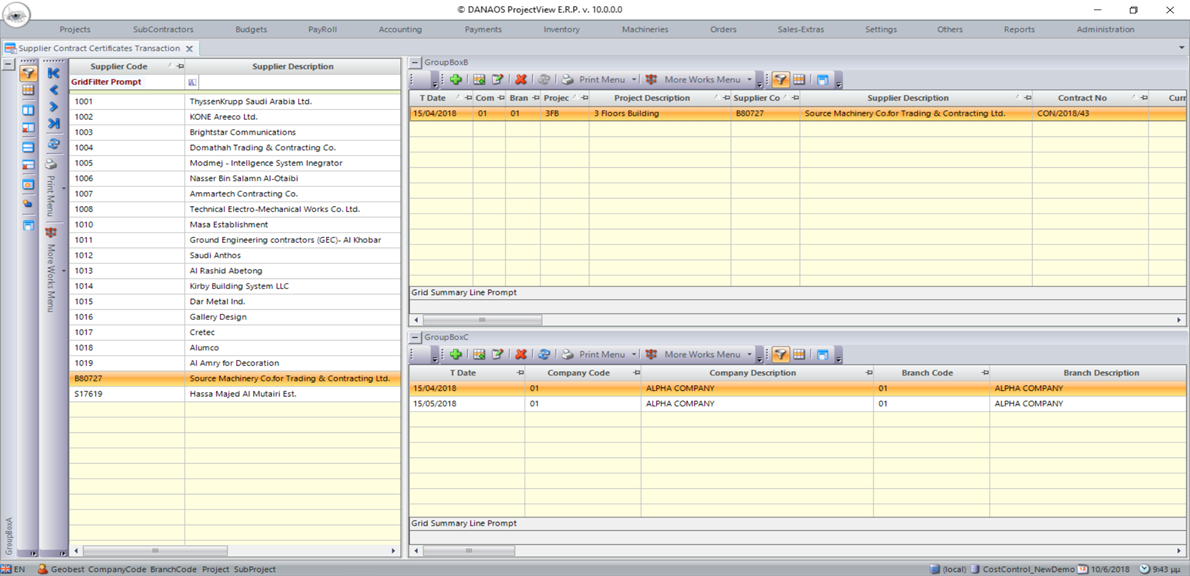 ProjectVIEW ERP Purchasing Module facilitates both Subcontractors Procurement and Materials Purchasing (Sourcing) by allowing bulk uploading of BoQ Code Lines and/or Materials to an electronic RFQ that is sent via email link to certified Subcontractors and Suppliers, respectively. Procurement and Purchasing managers can automatically evaluate submitted Quotations based on a predefined (user configured) evaluation formula that includes qualitative and quantitative criteria and get previous historical information.
ProjectVIEW ERP Purchasing Module enhances transparency and accelerates Purchasing and Procurement processes. Either via MRF (Material Request Form) or Site Requisition, Site Engineers can directly associate their requests to BoQ-WBS or Cost Codes, creating clarity to the Costing and Accounting departments.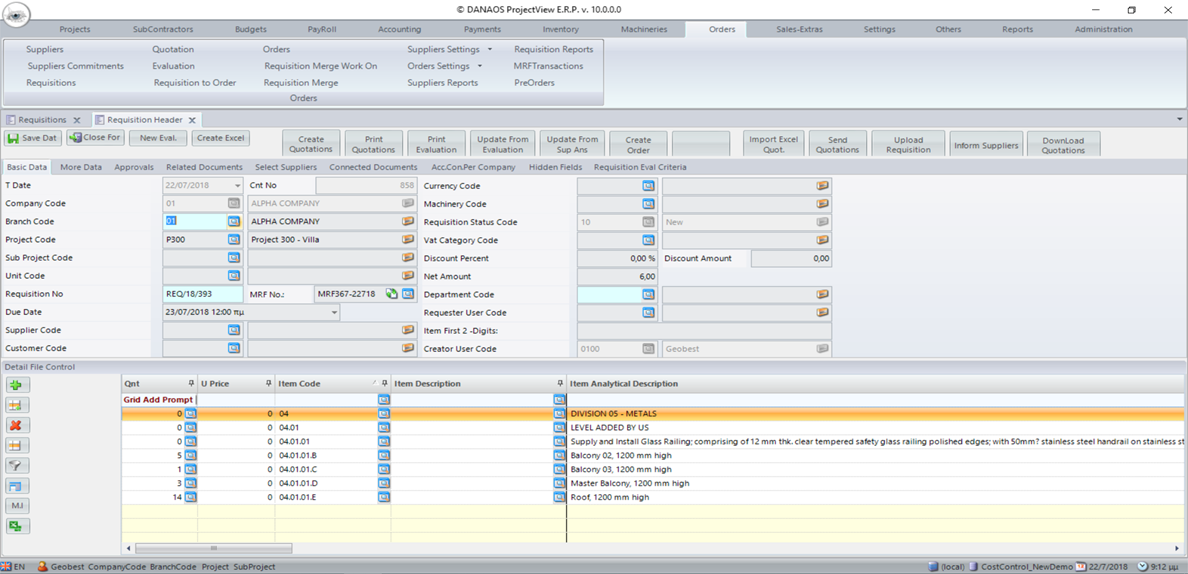 ProjectVIEW's engine assures that all materials (items) are always associated to BoQs/WBS or Cost Codes. Tracking materials logistics starting from requisition to internal order, procurement and PO requires a full control on orders and stock availability as well as workshops storing and movement.
ProjectVIEW ERP Materials Module facilitates end-to-end tracking and materials handling and provides a full dashboard to the Materials Manager on what has been forecasted, what, when and where is needed (QR Coding) along with the necessary historical information.
ProjectVIEW ERP Materials Module provides a CSI Masterformat categorization and it assures materials' categories integrity and consistency via a smart tagging tool.
Construction machineries availability, maintenance and overall usability, as well as asset management optimization and workability is a big challenge for construction companies. ProjectVIEW ERP Machineries Module is facilitating association of Machinery Types and Categories to BoQs/WBS and Cost Codes on the project's Estimation phase and it monitors the usability of each Machinery during the actual execution of works, providing a real usability index.
Via ProjectVIEW ERP Machineries application, machinery requests are set by the Site Engineers based on the availability of the machinery. The system schedules and 'locks' machinery on requested BoQs.
ProjectVIEW ERP Machineries can be utilized by the Plant Manager in terms of setting and creating work orders for preventive and corrective maintenance.
ProjectVIEW ERP Accounting and Financials is a multicompany, multiproject, multicurrency module that provides a fully parameterized and multilevel Chart of Accounts with standard accounting entries with debit/credit for GV (General Voucher) transactions. All accounting entries are generated by all complementary modules and processes and alleviate double-entries into accounting. Accounting and Cost Control are fully aligned as they refer to the Single Source of Truth.
System manages the full master file of assets as well as depreciations that are split to each Project according to the contribution of each tangible – fixed – intangible asset to cost.
ProjectVIEW ERP Accounting and Financials Module has an advanced reporting and business analytics tool presenting financial statements, Balance Sheet, Profit and Loss as well as Cash flow reports based on categories/sources (aging analysis subcontractor invoices, aging analysis customer invoices, loans installments, provision of future expenses – orders, bank position).
ProjectVIEW ERP HR and Payroll Module is a comprehensive solution for Human Capital Management (HCM), Labor Productivity and Payroll that can be utilized on site and in the office by the HR manager, timekeeper and cost controller.
ProjectVIEW ERP HR and Payroll Module is associating daily site activities to BoQ/Cost Codes and WBS providing labor control and mostly optimization of the construction recipes for labor assembly per type of work.
ProjectVIEW ERP HR and Payroll Module is also incorporating an HCM addon for harnessing CVs electronically and an internal system to evaluate the professional paths of staff. Payroll system can be configured, parameterized and localized according to ongoing labor regulations.
ProjectVIEW ERP Supplier Accounts Payable Module includes all master data of vendor (supplier/subcontractor) associated to many material categories and service types respectively. It incorporates a complete address book that it includes the master data of each vendor to facilitate association per project and per department.
Vendor financial card is credited automatically by invoices derived from inventory transactions or /and subcontractor specifications while debited automatically by payments of the invoices. All entries are monitored per company and project.
ProjectVIEW ERP Suppliers Accounts Payable Module contains more than 200 financial reports and includes supplier cards, supplier balances, supplier journals and can be generated per company and per project.
Similarly to ProjectVIEW ERP Supplier Accounts Payable Module, ProjectVIEW ERP Customer Accounts Receivable Module includes all master data of Customers associated to projects and RFIs. Advanced payment and retentions are added manually.
Based on project progress reports, RFI is generated automatically (using onsite mobile app) on predefined milestones and deliverables. Following customer RFI verification, the system creates company certification and invoice generation. Customer financial card is debited automatically by invoices derived from customer specifications while credited automatically by payments from customers. All entries are monitored per company and project.
ProjectVIEW ERP Customer Accounts Receivable Module financial reports (customer cards, customer balances, customer journals) can be generated per company and per project.
Field Reporting = Real Progress, Real Resources, Real Costs
Our Site Applications Capture and Sync Work Performance Data, real-time, from Site(s) to your Office(s) so you can compare against the baseline, control and manage each project's Budgeted vs Actual Cost, creating a Digital-Twin for cost realization
Make processes visible, measurable and manageable and improve the ability to rapidly adapt to job site changes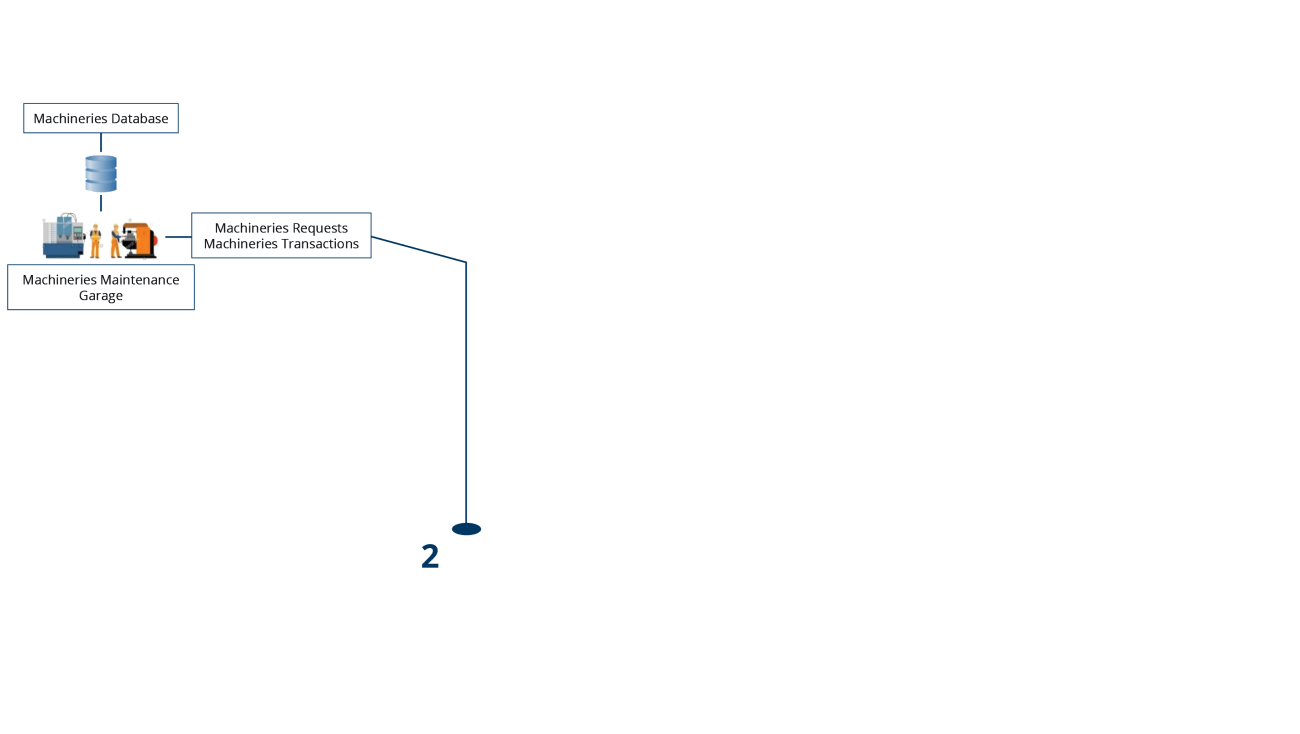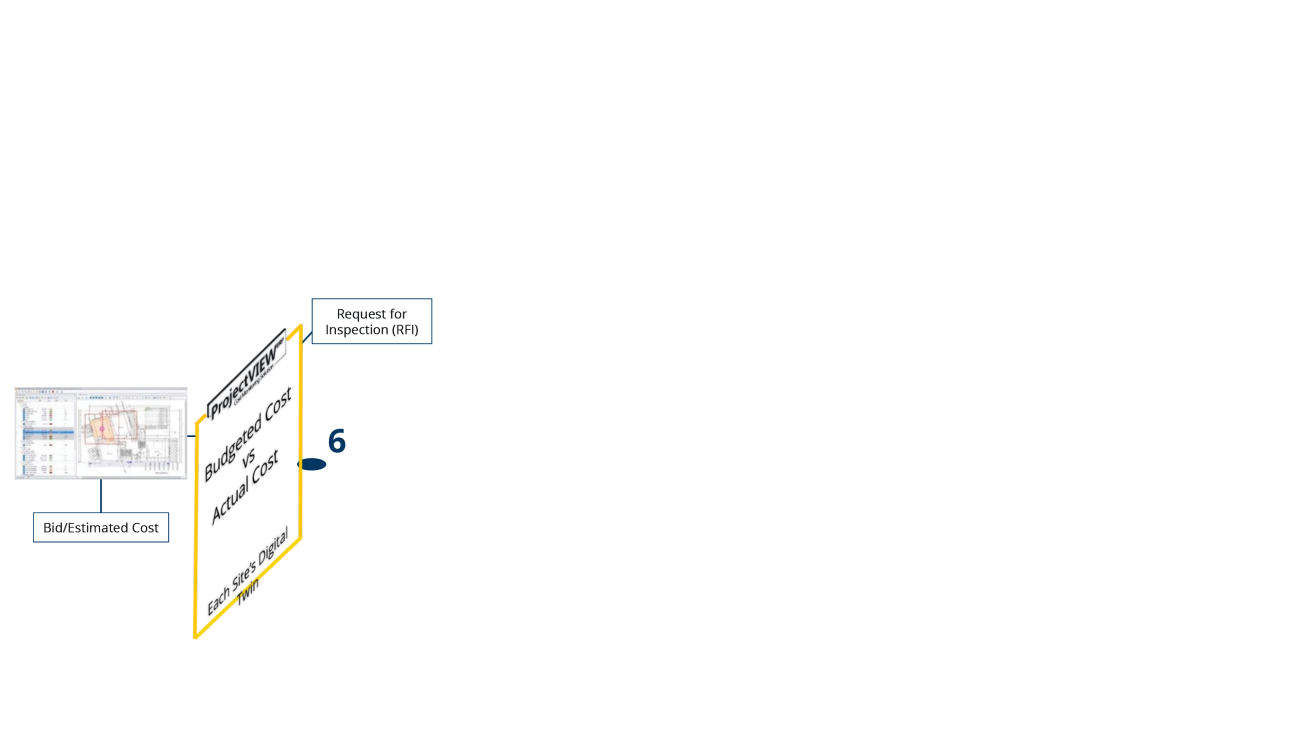 ProjectVIEW ERP leads the way in ConTech with Groundbraking Innovations
With a Cost Engineering mindset and a comprehensive experience, acquired from 20+ years of developing, customizing and setting up ProjectVIEW ERP for construction companies around the world, we are true Construction Software Specialists

Your ideas, formulas and business tactics are safe with us! Further to our employees confidentiality, WE are non-dependent or affiliated to any construction company, assuring our software neutrality and your solution's proprietary know-how.
Value Engineering and Value Perception
A One-of-a-Kind Trilateral (3-Way) Integration of:

1) WHAT: BoQ Item Codes (Project Requirements)
2) HOW: Work Breakdown Structure (WBS) Activities
3) CONTROL: Company-wide Cost Control Codes

that interconnects all Project's Data Dimensions either Effort-driven, Time-driven or Cost-driven, providing Omnipresent Projects' Performance
Rethink Project Control: Progress seen from the lens of Cost
Depending on your vantage point, we offer pervasive visibility and insights on cost-based progress and actual construction costs
Our success is defined by the success of our Clients.

Invest on ProjectVIEW ERP and witness an immediate increase on your Bid-Wins and Profit margins by 70% per year, minimum for the first three years.

Accelerate your business transformation, today!
Calculate your Return On Investment within 3 years effective period
Annual Derivatives
Metric
Input (est. per Year)
Results with ProjectVIEW
Assessing of New Opportunities
Opportunities

i

We estimate that using ProjectVIEW will increase your projects Project evaluation (Go/No-Go Decisions) by 60%

Submitted Proposals – Bids
Proposals

Proposals cannot be more than Opportunities

i

Your team will be able to submit faster and more accurate Bids. The estimated Bidding will be increased almost by 40%

Bid WINS
Projects

Wins cannot be more than Proposals

i

As a result of good judgment on successful bidding, Bid-Wins will also be increased by 50%

Projects' Revenue
Sales

i

Projects' budget will also increase as you will be able to judge fast and participate in more profitable projects

Resources Optimization/Productivity
OPEX (97%)

i

Your OPEX will decrease accordingly due to stricter cost control and management of procurement, labor and subcontractors

Corporate Efficiency – EBITDA Profit
Profit

i

As a result, you will manage your cashflow better and you will increase your net profit

ROI =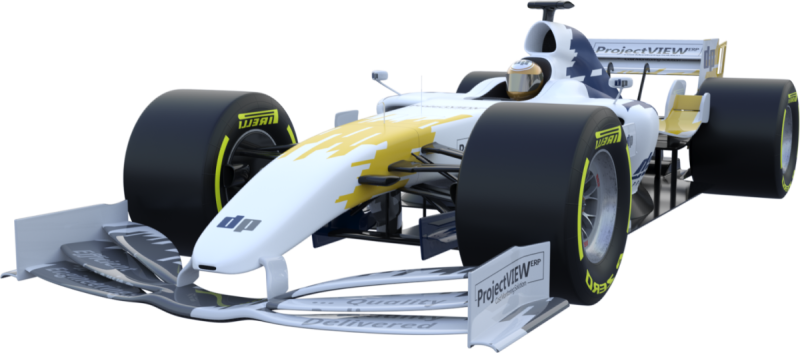 #1 Cost Control Software. #1 Customer Loyalty
We have a high customer lifetime value and a low churn by putting Customer, First!
ProjectVIEW ERP, VINCI's 2001 award-winning Cost Control software, is the world's most powerful Cost Control and Projects Performance Software. The necessary foundation for the digital transformation journey of any Construction Company.
"ProjectView is a useful tool for my everyday work. With ProjectView, I was monitoring all site activities (Daily Worksheets, Materials, Subcontractors). Quick, simple and successful results were produced automatically, accurate and more important on time."
"As the Head of Accounting in the Gefyra Project, I had the chance to operate ProjectVIEW an all-inclusive construction accounting and project financial system that helped us control all construction aspects of the Project with meaningful insights and reports of actual vs budgeted cost. The system was well supported and updated throughout the Project and assist us on job cost, revenue reporting and the financial statements analysis."
We work with select clients who truly believe in driving change in their Organizations by efficient use of technology
Is your existing ERP holding you down in terms of controlling your works and assets? Are you looking to replace your existing ERP system with the most powerful Construction Expert Solution? Are you ready to abolish your Excels and spaghetti code?
Innovative Plugins and Extensions
Construction Projects' Quality Plans are project-specific and are part of the Construction Contractor's QA/QC ISO Systems providing Quality Forms, Processes, Checklists and Specifications and detailing how the Contractor will Control and Assure quality on each Construction deliverable. Similarly to the Project Quality Plan, principal Contractor should also submit and adhere to the Health, safety and Environment (HSE) Plan during the construction phase.
ProjectVIEW Enterprise Content Management System -estimated to be launced end of 2020- is part of the ProjectVIEW ecosystem and facilitates the digitization of Project Quality and HSE Plans via a Web Form Designer, a Workflow Engine and a Users Management/User Rights tool. Quality and HSE forms are fully digitalized, encapsulating all required fields, comments, snagging and milestones of each QA/QC/HSE Form. Based on a powerful workflow, each Form is digitally circulated (manually or automicatically) to specified Project Stakeholders (Users) for Task Allocation, Review, Approval, Commenting.
Furthermore the system provides a versioning control for each Form and integrates Cost/Duration attributes of the ERP ecosystem along with Qualitative and HSE properties, providing a holistic Enterprise Project Management.
ProjectVIEW Enterprise Content Management includes: Incoming/Outgoing Protocol Registration, Case Management, Designs/Drawings Management, Email Management, Advanced Scanning and OCR, Archiving, Categorization, Personalized Dashboards with Alerts and Warnings and Advanced Reporting.
The construction sector contributes substantially to all greenhouse gas emissions, primarily carbon dioxide.
Based on the Global Status Report, Buildings and construction together account for 36% of global final energy use and 39% of energy-related carbon dioxide (CO2) emissions when upstream power generation is included.
Recent procurement requirements for carbon reduction in Infrastructure Projects, require taking into account during the Bidding Stage, the carbon emissions associated with the selection of machinery processes but also the embodied carbon of the materials and geomaterials as part of the Full Lifecycle Assessment.
Use of Embodied Carbon Calculator (EC3) within ProjectVIEW ERP will assist in the selection of materials and machinery/processes by calculating the CO2 emissions associated with the production of each material during manufacturing, assembly and ultimate disposal.
ProjectVIEW ERP Tendering Module optimizes the Costs of Resources along with the Carbon Footprint of each Project, providing overall Cost and Enviromental Efficiency and increasing the Bidding odds whereas ProjectVIEW ERP Machinery Management and Materials Inventory provide advanced control on Assets Maintenance and Materials logistics.
The future of Construction is ZERO CARBON
Drones, UAV Quadcopter Drones, can provide full site awareness by feeding office users with images, videos and geometric data, tracking construction processes and providing actual progress of works. Drones/UAV provide construction stakeholders with expansive, accurate, and precise spatial data.
Based on a Ground Control Point system, drones calibrate GPS/Geometric Coordinates and obtain geometric data that can be analysed within our ProjectVIEW software providing Actual vs Budgeted Progress of works. The data captured via each flight is processed through a special photogrammetry software which is used to generate isometric contour lines, orthophotos, and 3D point clouds.
Furthermore, the interpretation of spatial data into length, areas and volumes and further association to drawings and budgeted costs allows quantity surveyors to compare 'Estimated" to "Actual", thus enabling the identification of spatial deviations. DANAOS in cooperation with DRONEPROS provides products and services for the survey of any construction project.
Utilizing a Site/Office Data synchronization, Site Data is seamlessly integrated with the ProjectVIEW ERP system providing resources inspection and monitoring, in real-time. A complete rendering of site helps in managing and orchestrating processes of labor, machinery and materials. This ensures better project management with reduced project timelines, accurate site inventories, improved communications, and improved safety.